Loved it
Felt a bit pricy while ordering, but totally worth it. Looks beautiful!
Thank you so much for the 5-star review! :)
Unique, adorable AND functional!
I was very pleased by the quality of the blackout curtains that we ordered for our baby's nursery! Many blackout curtains don't do a good job of truly blocking light from the room but these really do the job so the only cracks are the ones at the corners which aren't preventable without a French return rod.
Big bonus, the know it all pattern is adorable and fits well with the woodland creature theme we have!
Thank you for sharing your experience, and for the 5-star review!:)
We are glad to hear that you like your new curtains. You are definitely right about the blackout rod (French return). It is an excellent solution to optimize the blackout feature of the curtains.
They were for my grandchildren's nursery and when my son saw them he loved them for his son's nursery . So I gave them to my first grandson . They absolutely love them . I'm waiting for swatches to decide what to put in nursery
Thank you so much for your continuous support for Teepee Joy. We're glad that your son loves our blackout curtains! :)
Beautiful curtain and awesome customer service
I purchased the Tigers Den curtain. It fits great in our nursery and the customer service was outstanding. Highly recommend TeePeeJoy.
Thank you so much for appreciating our service and for giving us a 5-star review!:)
Baby girl nursery
Very well made nice stitching and material
I would highly recommend and would also not
Hesitate to place another order with this company!
Thank you so much for appreciating our craft, and thank you for your support!:)
Rainbow Curtains
I love the pattern and how the colors can be used in our gender neutral nursery! Can't wait to use them!
Thank you so much for sharing a photo of your space! The curtains look so good in the room.:)
Exactly what I wanted!!
These curtains match my sons nursery perfectly and are great quality. Blackout make the room much darker and he sleeps great. Also great customer service, my order was delayed due to a fabric delay out of TPJ control. They prioritized my order and expedited shipping even though it was their vendors fault. Highly recommend!!
Thank you so much for this review, and for the beautiful photo! We hope your little one gets the best quality of sleep. We're glad to know that the blackout curtains have arrived, the space is perfect for your little one! :)
Thank you so much for this review, and for the wonderful photos! :)
The curtains are perfect, so well made, beautiful and working with Lee was fantastic. She is very conscientious about making you the best product she can. She works with you regarding measurement, does the design work in the space, and is so helpful. I can't put in words how pleased I am with the whole process.
Thank you so much for this 5-star review. Glad to be of service. :) I'm only one email away!
These blackout curtains were the perfect addition to our nursery! Such cute designs to choose from and does the job of blocking the sun for mid-day naps
Thank you so much for this wonderful review. Sweet dreams to your little one! :)
Not sure which design to go with? Order swatches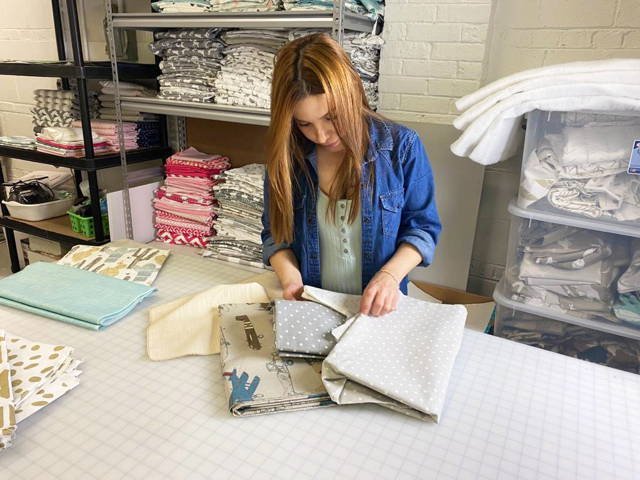 Considering a few options? Want to see what works in your space?
Choose up to 3 free fabric swatches and we'll send them to you free of charge, plus S&H.
🙋 FREQUENTLY ASKED QUESTIONS
Can I purchase panels that are wider than 54" or longer than 100"?
How do I hang these curtains?
We offer two heading options. Please make sure to choose the one you prefer in the product's selection section above.
Back Tab
Our recommended heading for kids and nursery curtains. With this heading, the curtain rod feeds through loops, like the classic tab top, but the loops are not visible as they are on the back of the curtain. Since the tabs are made of fabric, they slide quite well and don't make noise. This heading comes with a pole pocket as well.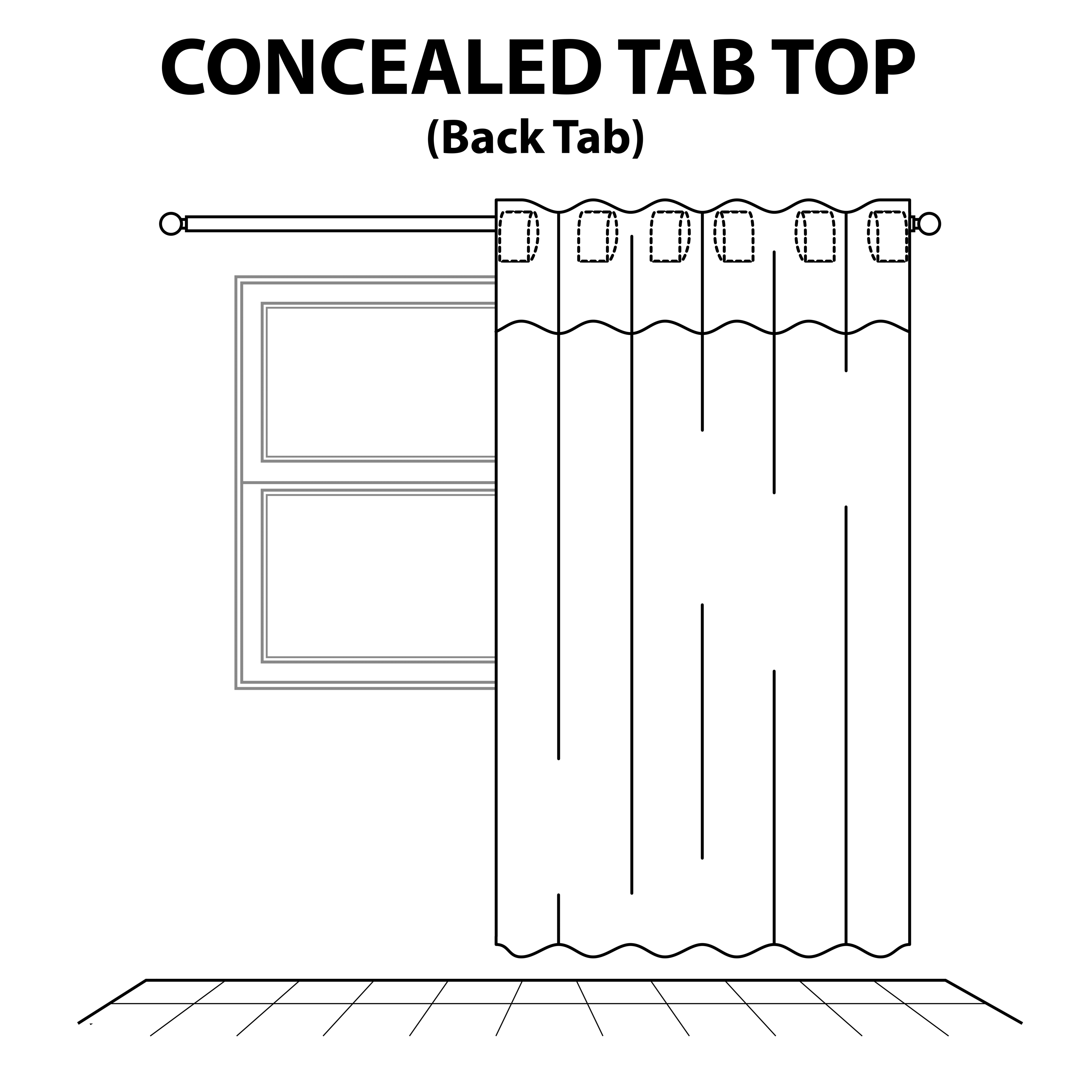 Hidden Clips

This heading type allows you to use clips and rings to hang your curtains. The clips are attached to the back of the curtains, so only the rings are shown in the front.
We don't supply the clips and rings. They can be purchased inexpensively in hardware stores or anywhere online. This heading comes with a pole pocket as well.
What is the average turn around time for curtain orders?
Since all curtains are printed and made-to-order, it takes a few days to print, cut, sew, inspect, and pack your order. Curtains are usually shipped in 5-10 business days.
Does your blackout curtains really block the light?
Our blackout curtains, when installed properly, can stop up to 99% of sunlight from entering a room and keep it dark. When installing blackout curtains, you can enjoy two more benefits: noise blocking and energy saving.
If you don't like to block all the light from entering the room, privacy lining is a good choice. It blocks some of the light and adds a certain privacy level by ensuring no one from the outside can see inside.

I have my own fabric. Can you still help?
Of course! We are happy to help with any customization requests. We can work with your fabric or suggest fabrics if you can't find a material you like on our website.
Where do your products come from?
All of our products are handcrafted in our family shop at Skokie, IL (Chicagoland)
Of course! If you are not sure what to select and prefer to see the fabric in person, feel free to visit our swatches section. All swatches are free. Up to 3 fabric swatches and two lining swatches per order.
Please note. Fabric swatches ship in 7-10 days. We do not hold stock of swatches and print each swatch per order.
What is your refund policy?
All fabrics are Printed-Per-Order and Cut-To-Measure per customer specifications. Therefore the finish product (curtains) cannot be resold to someone else. For this reason, curtains are not eligible for returns. We guarantee all curtains against defects in material or workmanship. In the event of a defect, we will repair or re-make the item at our expense.
We want you to be 100% satisfied with your product. If there is any doubt about what the fabric's actual color and texture are, we highly recommend ordering swatches before placing a curtain's order.

What is your cancellation policy?
In most cases, we process your order within 24-48 hours of receiving it. If you like to cancel your order, please check with us via chat, email, or phone. If your order were not processed yet, we would cancel the order and issue a full refund. Once an order has been processed, it cannot be canceled, changed, or returned.
📖 DOWNLOAD the Complete Curtain Guide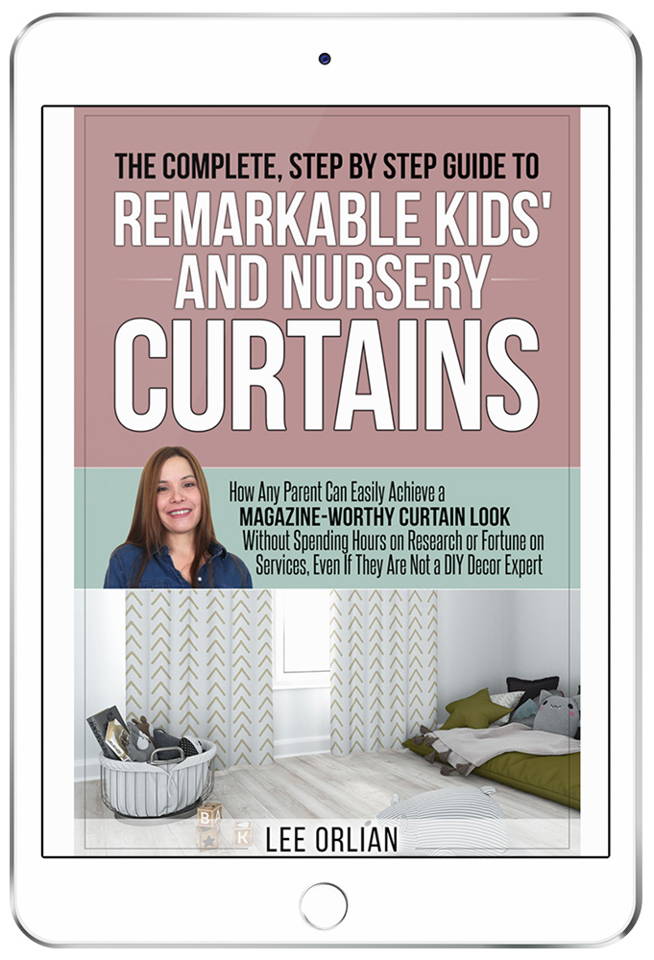 This complete guide earns its name by providing sound advice with actionable, step-by-step guidance to complete your project in no time, and LOVE the end result.

Put simply: it's everything a parent needs to "do curtains right".
✅ Which fabrics are safe, easy to clean, and promote healthy sleep habits
✅ Different styles so you can select the best design, hanging method, and fullness to achieve the look you desire
✅ Curtain safety tips so you can avoid dangerous mistakes (pg. 22 -24)

✅ Easy, step-by-step measuring instructions that have helped 2,643 parents (and counting) get it right the first time

✅ How to select the correct curtain rod, number of panels, and accessories so you don't have to stop mid-project to correct mistakes

✅ Never hung curtains before? No problem! You'll have the confidence of a pro with detailed instructions and tips

Sign up now, and receive

10% OFF on your first curtain order
Sign up now to receive your

Curtain Guide