We bought these for our son's nursery after searching for the perfect curtains for our space/furry creatures theme. These are perfect and they block out the light as well as the cold.
Very happy
I can't be more satisfied with the product. The quality of material is very good, colors are beautiful and my son loves llama design. He even started giving llamas a name. The customized pillow was a great gift and addition to the room.
Glad to hear that your little one enjoys the curtains too! Thank you for the wonderful review. :)
Best Quality Drapes!
I can't believe I found the perfect drape to match my grandson's themed nursery. I ordered the blackout drapes in the stars and moon design. Even though they are light weight the structure of the fabric is so sturdy and well made. Everything is custom which I love! The personalized pillow was a nice added gift. Well worth the price!
Thank you for supporting and appreciating our craftsmanship. We're happy to know that you're satisfied with the curtains! :)
Wonderful blackout curtains!
The custom curtains that I ordered for my kids' room are incredible. The fabric is thick but soft, they block out an incredible amount of light, and I'm just thrilled with the patterns I selected (one of which was completely custom--Lee reoriented a pattern she already had and changed it to a different color that I selected). I emailed many times with Lee prior to placing my order, and she was incredibly helpful in selecting sizes and patterns and sending me mock-ups of what the curtains would look like on photos I sent her of the windows. I did have to wait several weeks for the curtains to arrive, but they were worth the wait! Highly recommend Teepee Joy curtains!
These rooms are goals! Thank you for sharing such beautiful photos, and thank you for supporting our shop. :)
These curtains are SO adorable. The fabric is high quality and looks even better in person! Getting the custom length was a must so that they hang at the perfect length for our window.
We're happy that we've exceeded your expectation! Thank you for supporting our shop. :)
gorgeous, custom-made curtains & personalized service
The planet curtains look gorgeous in both our son's room and rainbow connection in our living room. Fabric for the third set was on backorder, so the owner sent free swatches to check that we liked the color and even offered to make a replicate by hand, if we weren't able to wait (we can - I'm sure it will be worth it).
Thank you so much for sharing pictures of your space (beautiful set-up by the way!) and for the five-star review! :)
Thanks so much for your feedback! We're glad that our curtains add style to your little one's room. 
curtains not just for kids
I use the Fynn design as a cafe curtain in my living room where I needed something to partially cover a window. Off the shelf cafe curtains come in 24 and 36 inch length but not 30 so I was glad to be able to customize to obtain the length I needed. They are well made and the blackout layer does its job well.
These Curtains Are So Great!
I love the design and the fact they're blackout. I was scared because they're white they would block the light but they do. They are great quality. Very impressed. Thank you!
Not sure which design to go with? Order swatches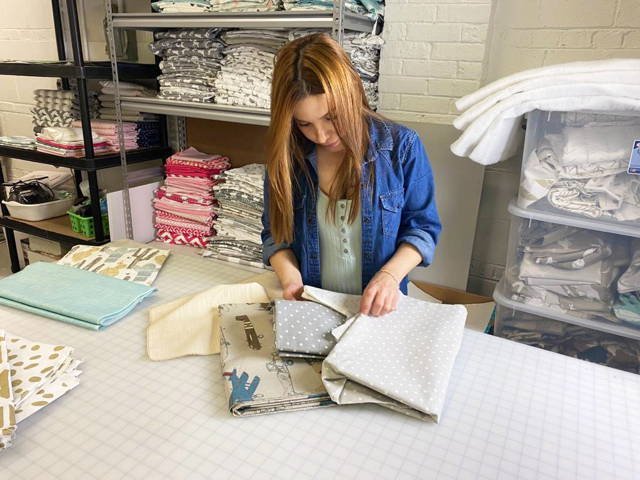 Considering a few options? Want to see what works in your space?
Choose up to 4 free fabric swatches and we'll send them to you free of charge, plus S&H.
🙋 FREQUENTLY ASKED QUESTIONS
Can I purchase panels that are wider than 54" or longer than 100"?
How do I hang these curtains?
We offer two heading options. Please make sure to choose the one you prefer in the product's selection section above.
Back Tab
Our recommended heading for kids and nursery curtains. With this heading, the curtain rod feeds through loops, like the classic tab top, but the loops are not visible as they are on the back of the curtain. Since the tabs are made of fabric, they slide quite well and don't make noise. This heading comes with a pole pocket as well.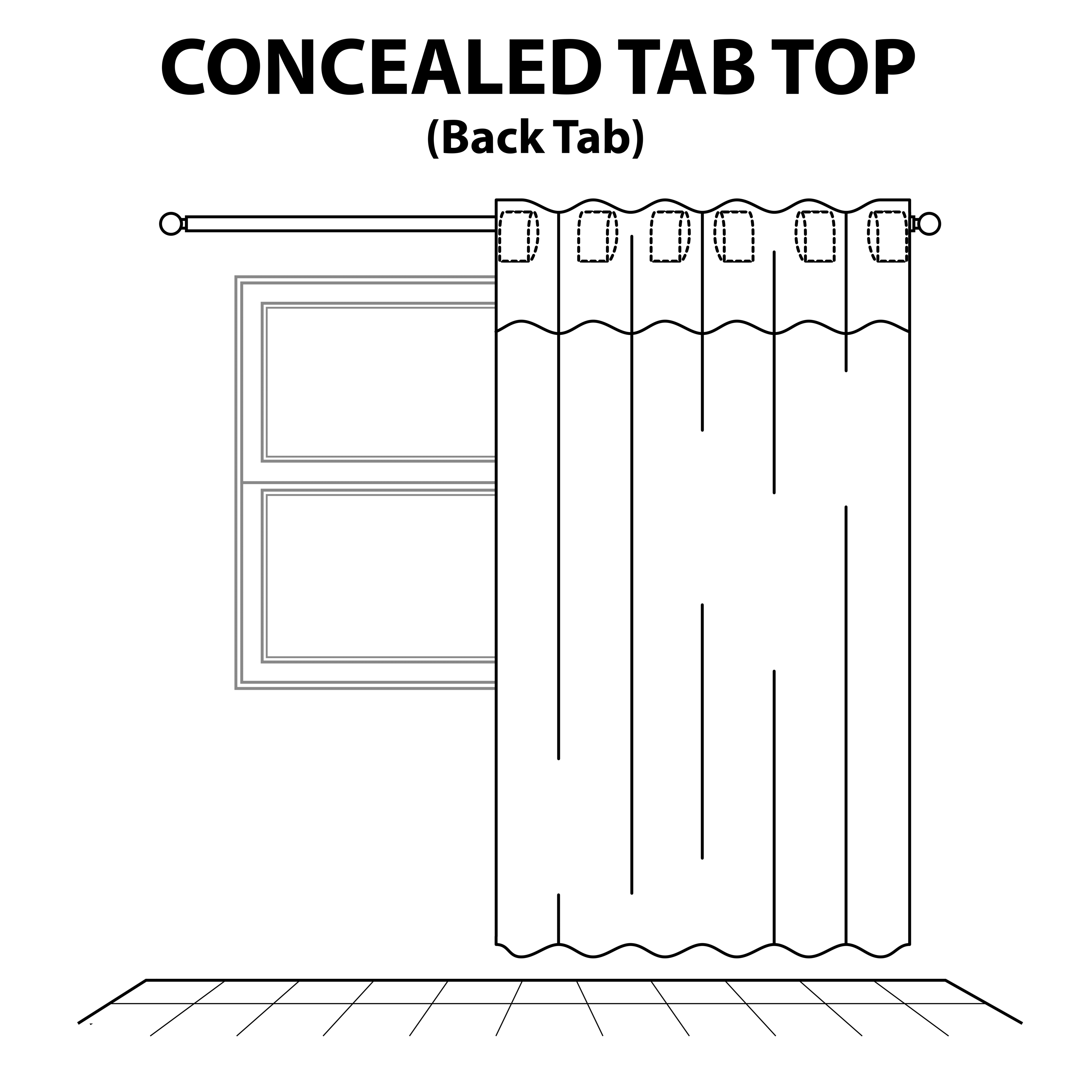 Hidden Clips

This heading type allows you to use clips and rings to hang your curtains. The clips are attached to the back of the curtains, so only the rings are shown in the front.
We don't supply the clips and rings. They can be purchased inexpensively in hardware stores or anywhere online. This heading comes with a pole pocket as well.
What is the average turn around time for curtain orders?
Since all curtains are printed and made-to-order, it takes a few days to print, cut, sew, inspect, and pack your order. Curtains are usually shipped in 5-10 business days.
Does your blackout curtains really block the light?
When closed, our blackout curtains block all incoming light and keep the room in pitch-black darkness. Two more benefits you can enjoy when installing blackout curtains are some noise blocking and energy saving.
If you don't like to block all the light from entering the room, privacy lining is a good choice. It blocks some of the light and adds a certain privacy level by ensuring no one from the outside can see inside.

I have my own fabric. Can you still help?
Of course! We are happy to help with any customization requests. We can work with your fabric or suggest fabrics if you can't find a material you like on our website.
Where do your products come from?
All of our products are handcrafted in our family shop at Skokie, IL (Chicagoland)
Of course! If you are not sure what to select and prefer to see the fabric in person, feel free to visit our swatches section. All swatches are free. Up to 4 fabric swatches and two lining swatches per order.
Please note. Fabric swatches ship in 7-10 days. We do not hold stock of swatches and print each swatch per order.
What is your refund policy?
All fabrics are Printed-Per-Order and Cut-To-Measure per customer specifications. Therefore the finish product (curtains) cannot be resold to someone else. For this reason, curtains are not eligible for returns. We guarantee all curtains against defects in material or workmanship. In the event of a defect, we will repair or re-make the item at our expense.
We want you to be 100% satisfied with your product. If there is any doubt about what the fabric's actual color and texture are, we highly recommend ordering swatches before placing a curtain's order.

What is your cancellation policy?
In most cases, we process your order within 24-48 hours of receiving it. If you like to cancel your order, please check with us via chat, email, or phone. If your order were not processed yet, we would cancel the order and issue a full refund. Once an order has been processed, it cannot be canceled, changed, or returned.
📖 DOWNLOAD the Complete Curtain Guide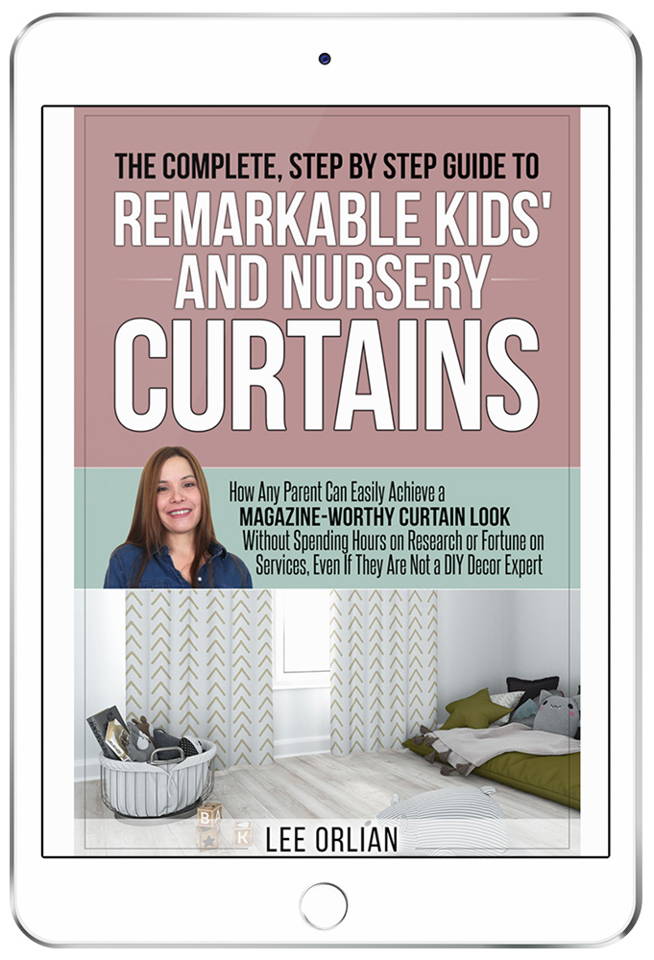 This complete guide earns its name by providing sound advice with actionable, step-by-step guidance to complete your project in no time, and LOVE the end result.

Put simply: it's everything a parent needs to "do curtains right".
✅ Which fabrics are safe, easy to clean, and promote healthy sleep habits
✅ Different styles so you can select the best design, hanging method, and fullness to achieve the look you desire
✅ Curtain safety tips so you can avoid dangerous mistakes (pg. 22 -24)

✅ Easy, step-by-step measuring instructions that have helped 2,643 parents (and counting) get it right the first time

✅ How to select the correct curtain rod, number of panels, and accessories so you don't have to stop mid-project to correct mistakes

✅ Never hung curtains before? No problem! You'll have the confidence of a pro with detailed instructions and tips

Sign up now, and receive

10% OFF on your first curtain order
Sign up now to receive your

Curtain Guide